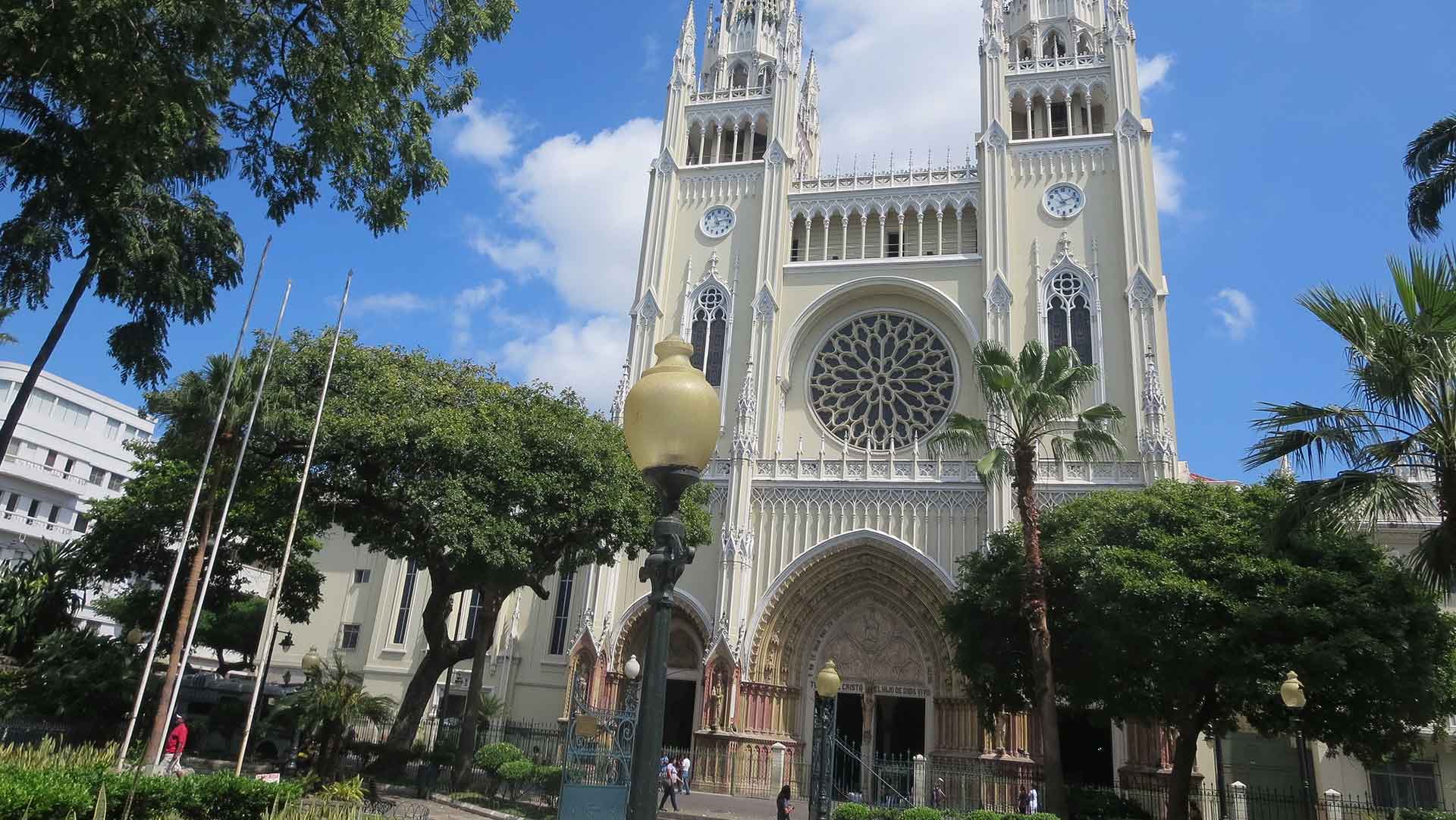 Uncovering the Metropolitan Cathedral of Guayaquil
November 12, 2021
By Stepanie Frias
Topping out among the must-see places in Guayaquil is the Las Peñas neighborhood including Santa Ana Hill (Cerro Santa Ana). Boasting a colorful setting, historical relevance, and oodles of cultural sites; it's easy to spend hours or days exploring this trendy pocket of Guayaquil. Prominent attractions include Numa Pompilio Llona Street, the Diego Noboa y Arteta stairway, the Santa Ana Hills Chapel, the Santa Ana Hills Lighthouse, and the El Fortin Naval Museum.
Calle Numa Pompilio Llona
The Spanish word for street is calle, rendering a historic street named after the renowned Ecuadorian poet and philosopher, Numa Pompilio Llona. His work was quite popular at the turn of the 20th century, and today his namesake street holds great significance to historical Guayaquil. Considered among the oldest streets in the southern city, Calle Numa Pompilio Llona harbors numerous structures more than 400 years old. Many of them have been decked out with vibrant candy-colored paint and house an eclectic array of art galleries, studios, and boutique shops.
Escalinata Diego Noboa y Arteta
Another patronymic icon of Guayaquil is a rather scenic stairway (escalinata in proper Spanish) referred to simply as 'Diego Noboa y Arteta.' Named after the triumphant 19th-century Ecuadorian president, Diego Noboa y Arteta, it's 444 steps are the main vein of Santa Ana Hill. Crossing the neighborhood vertically from the boardwalk to the hilltop; it effectively links an array of shops, restaurants, and bars. The plazas, fountains, and parks along the way also offer prime territory for viewing Guayaquil from above.
Iglesia del Cerro Santa Ana & Plaza de Honores
Among the sites of Santa Ana Hill is a religious site and the symbolic plaza which procedes it. The church is known as Iglesia del Cerro Santa Ana and the adjoining plaza is Plaza de Honores. The colonial chapel, built with local materials in 1548, looks over Guayaquil beneath traditional chapul wood beams, nineteen stained glass windows, and spiral pillars. Its decorative plaza was inaugurated more recently, in 2002, with displays of anchors, canons, and other maritime symbols which pay tribute to the patriotic symbols of the city.
Faro Cerro Santa Ana
Although in itself it is not a historical structure, Guayaquil's blue and white striped lighthouse is a replica so-to-speak that signifies a blend of ancient and modern times. Rising nearly 19 meters high, the lighthouse built in 2002, rests on the highest point of Santa Ana Hill. It's a placeholder for the previous lighthouse, which stood on Santa Clara Island since 1841. Visitors are welcome to climb the 52 spiral stairs that lead to the top of the lighthouse, highlighted by brilliant panoramic views from the top.
El Fortin of Santa Ana Hill Naval Museum
Also at the top of Santa Hill, lies the El Fortin Naval Museums and lookout point. Opened in 2003, the museum pays homage to Ecuadorian naval heroes and the country's maritime history. Indoor and outdoor spaces display more than 20 relics and replicas including weapons, canons, boats, anchors, a sundial, etc. All of it sits on the historic site of the former La Polvorosa Fort, considered Guayaquil's sole point of defense against pirate attacks since 1629.
How to Get to Las Peñas and Santa Ana Hill
The Las Peñas neighborhood including the many sites of Santa Ana Hills is located just 6.4 km south of Guayaquil's premium hotel, Hotel del Parque Historico Guayaquil. Ideal for history, culture, and nature lovers; the hotel offers a variety of luxury tours and packages for exploring Guayaquil and Ecuador on a deeper level.